First off— if you like spicy, go to Trader Joe's and get yourself some of their Dijon mustard! It is unique blend they import from France and it is delicious and unusual compared to the average jar of Grey Poupon. I have always trusted TJs to sell great products at a good price and at $1.60 something for 13 ounces I guess you can't beat it.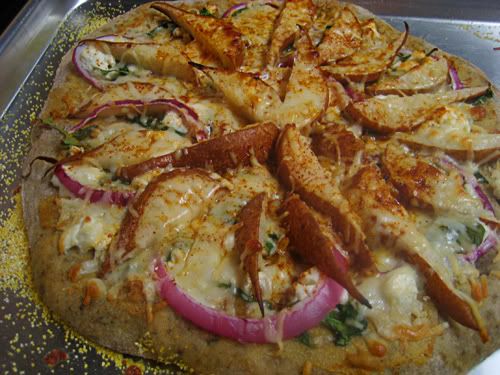 Moving forward from my tangent, I am skipping my backlog of recipes to present you with this new pizza recipe. It is loosely inspired from this month's Bon Appetite and the flavor combination is pretty divine. I created it as an "experimental" pizza when we had pizza night last week and paired it with a more traditional "super veggie" sort of pizza. It was so delicous, we actually finished this one first! This pizza took about 10 minutes to prepare which is always a plus for a busy weeknight.
Ingredients
one package prepared pizza dough
corn meal
2 bosch pears, skin on, sliced into thin slivers
4 ounces goat cheese, crumbled
2 T dijon mustard
handful of arugula
6 red onion "rings"
1/3 cup parmesan blend
Directions
Let pizza dough set out of fridge for 15 minutes. Preheat oven to 400 degrees.
Flatten out pizza dough in a 12 - 15 inch round. Lay on a baking sheet sprinkled with corn meal or in a pizza pan. Prick the dough with a fork and par bake in the oven for 10 minutes. Remove from oven.
Spread a thin layer of Dijon onto the dough. Top with arugula and then sprinkle goat cheese and onion rings throughout.Arrange pears in a circular pattern. Sprinkle entire pizza with parmesan cheese.
Bake in the oven for 20 minutes or until cheese is bubbly and golden. Let cool for 5 minutes out of oven and serve.