I saw these in this month's Bon Appetit and just had to find an occasion to make them. I am not much of a pancake person, but when it comes to waffles, I love their crunchy outer layer, delicate fluffy inside AND the infinite flavor/topping possibilities!
The random twin ESP hit again as Melanie and I happened to make the same recipe on the same day. She will probably add her notes to this post later as we both used different modifications.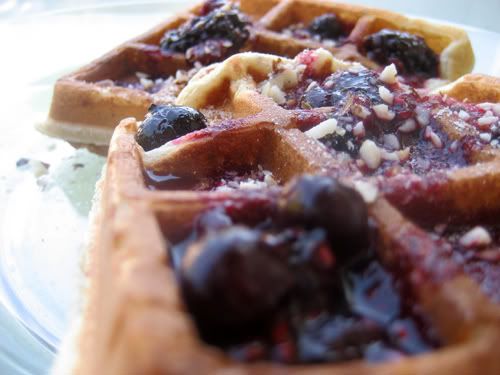 Waffle Ingredients (adapted from Bon Appetit, AUG 2009)
-makes about 20
1 stick butter, unsalted
1/4 cup honey
3 cups flour
1/2 cup whole wheat flour
1 T baking powder
1/2 t salt
1/4 t baking soda
3 large eggs
1 1/2 cups milk
1 cup sour cream (I actually used nonfat organic Greek yogurt)
2/3 cup chopped toasted hazelnuts (reserve some for topping)
Pure organic maple syrup
warm berry coulis (see recipe below)
Directions
Melt the butter with honey in a small saucepan over low heat. In a large bowl, whisk together flour through baking soda. In a smaller bowl, whisk together eggs through sour cream. Slowly add the wet ingredients to the dry ingredients and stir until well blended. Add the honey butter mixture and sprinkle with hazelnuts.
Heat oven to 250 degrees. This is to keep the waffles warm while you take the time to make them all one-by-one in your waffle iron. Heat your waffle iron and spray lightly with nonstick spray. Depending on the size of your iron, add about a ladle full of waffle batter to the iron and cook for 5 minutes or until the steaming stops and the outside of the waffle is crispy. Place in oven until remaining waffles are finished.
Serve waffles warm and drizzle with maple syrup, a spoonful of berry coulis and sprinkled hazelnuts.
Warm Berry Coulis Ingredients
- makes 3.5 cups
2 cups fresh strawberries, divided
2 cups fresh raspberries, divided
1 cup fresh blueberries, divided
1 cup fresh blackberries, divided
1/2 cup sugar
1 T fresh lemon juice
Directions
Place half of every berry in a medium saucepan. Add sugar and lemon juice to the berries and let stand for 30 minutes or until the natural juices are released. Bring the berry mixture to a simmer over medium-high heat. Reduce heat to medium and simmer uncovered until berries are soft- about 10 minutes. Strain mixture through a fine mesh strainer into a medium bowl, pressing on solids to release as much juice as possible. Discard the solids in the strainer.
Return the berry puree to the saucepan. Add remaining reserved berries to the saucepan over medium heat and stir until warm- about five minutes. Spoon over waffles.
Notes
The actual recipe calls for full-fat versions of everything. I did not do this and I don't think the recipe was missing anything.
This recipe was originated at Balthazar restaurant in New York
I love fresh berries and I didn't see the need to spoil beautiful, expensive, edible berries in a sauce. I used this handy frozen mix from Trader Joe's that has all these berries in it already and probably saved myself ten bucks.