Nutty and cheesy with a toasty hazelnut crunch. Not meant to be eaten alone. Not meant for those watching their caloric intake.
This was a pretty darn good version of roasted butternut squash lasagna that I found on Food Network via Michael Chiarello. I made this for a small dinner with friends and we really enjoyed it. It was a balanced, hearty meal that went well with wine. In addition, it was also my first successful venture at creating a bechamel sauce that didn't resemble paste.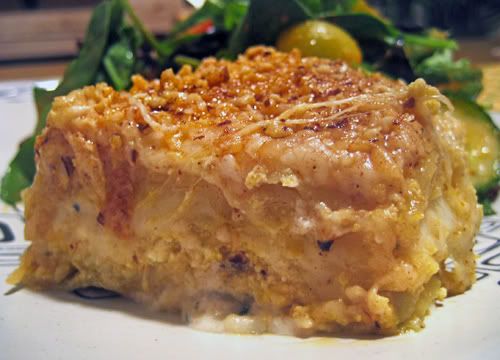 Ingredients
2 large butternut squash, about 3 to 5 pounds
3 T extra-virgin olive oil
1 T finely chopped fresh sage leaves
1 t Fennel seeds, crushed
1 t cinnamon
2 t salt
1/2 t freshly ground black pepper
1 t freshly grated nutmeg
2 cups ricotta cheese (or a 15-ounce container)
1 cup freshly grated Parmesan
2 large eggs
1 pound dried lasagna sheets (about 24 sheets), each 6 1/2 by 3 inches
Extra-virgin olive oil
1/8 cup toasted, crumbled hazelnuts
For the sauce:
2 quarts 2 percent milk
6 T unsalted butter
1 T sage, minced
2 t minced garlic
1/2 cup all-purpose flour
2 t salt
Freshly ground black pepper
1/2 t freshly grated nutmeg
Lasagna Assembly Extras
Butter, for dish
1 pound mozzarella, grated
1 cup freshly grated Parmesan
Directions

Preheat the oven to 400 degrees F.
Using a vegetable peeler, remove the squash's hard shell. Trim about 1/2-inch off the top and bottom ends so you can set each section of the squash flat on a cutting board. Cut the squash in half lengthwise. Scoop the seeds out with a spoon, and coarsely chop the squash into 1/2-inch chunks. Line a baking sheet with aluminum foil. In a bowl, toss the squash with the oil, sage, fennel, cinnamon and 1 teaspoon salt and fresh ground pepper. Spread the squash in a single layer on the baking sheet. Roast the squash in the oven until very soft and beginning to brown, 40 to 50 minutes, stirring once or twice. Remove the squash from the oven and puree in a food processor with fresh nutmeg.
In a large bowl, mix the squash puree, ricotta, Parmesan, eggs, 1 teaspoon salt, and 1/2 teaspoon pepper. Cover and refrigerate the mixture until ready to use.
In a large pot of boiling, salted water, cook the lasagna sheets until al dente. Drain the sheets and spread them on a baking sheet. Drizzle them lightly with oil and set aside.
Prepare the sauce: In a large saucepan, bring the milk to a slow simmer over medium heat. In a large pot, melt the butter over medium-low heat. Add the sage and garlic to the butter, cook for 30 seconds, then add the flour and stir. Add about 3 cups of the milk, and whisk vigorously to prevent lumps. Bring to a boil, while whisking continuously. Add the remaining milk and whisk again. Add the salt, pepper, and nutmeg. Adjust the heat to low to maintain a slow simmer, and cook until the sauce coats the back of a spoon, about 5 minutes, whisking frequently. Remove the saucepan from the heat. Makes about 8 cups.
Preheat the oven to 375 degrees F.
Butter a 9 by 13-inch baking dish. Spoon a ladle of bechamel into the dish and spread to coat the bottom. Place a single layer of lasagna sheets on top of the bechamel. Spread some of the squash mixture evenly over the lasagna sheets and sprinkle about 2 tablespoons of mozzarella cheese and 1 tablespoon of grated Parmesan on top. Repeat this step until all ingredients are used, starting with 2 to 3 ladles of bechamel for each layer. Keep building the layers until the pan is full to about 1/4-inch from the top. Finish with cheese and sauce directly over the noodles. Bake in the middle of the oven for about 1 hour. Remove the cover, and continue cooking for another 15 minutes until golden brown and bubbling. Right before removing from oven, sprinkle with hazelnuts. Allow lasagna to rest before slicing. Serve warm.
Notes:
The leftovers of this are especially delicious
I made a half version of this recipe (it would still be enough to serve 6 people minimum because it is such a rich dish)
If you have extra bechamel sauce- mix it with marinara and toss over whole wheat spaghetti for a quick meal
This recipe is quick for a weeknight if you roast the squash the day before
You can also use frozen or prepared butternut squash cubes to cut out extra prep time