I eat a lot of potatoes. They are sort of my go-to comfort food to the point that I am always looking for new delicious recipes. Naturally, when I came across these gems in this month's Bon Appetit, I just had to try them. They have a feature this month on exotic barbecue that explores a bunch of new-to-me flavors. Let me say these potatoes were worth every random extra ingredient that I had to pick up at the store! These little guys are a flavor party in your mouth! In the magazine, it says to barbecue the potatoes, but I chose to twice bake them to save myself some time.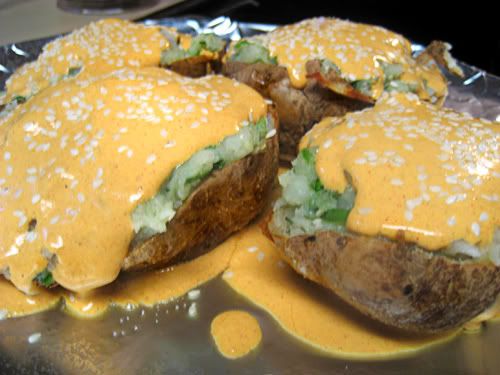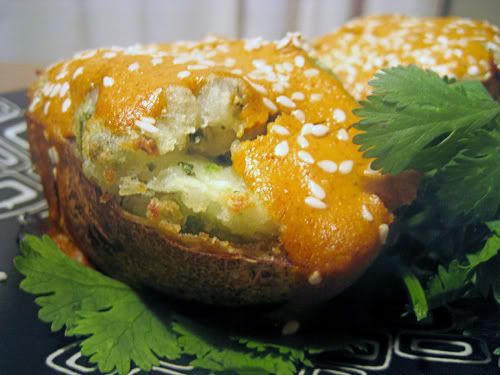 Ingredients
(serves 6)
Potatoes and Stuffing

3
large unpeeled russet potatoes, scrubbed
1
cup
coarsely grated Monterey Jack cheese

2
tablespoons
butter, melted

2
tablespoons
chopped fresh cilantro

1
green onion, finely chopped

1
serrano chile, seeded, minced

1
tablespoon
sesame seeds

Coarse kosher salt


Yogurt Spice Paste

2
garlic cloves, coarsely chopped

2
teaspoons
chopped peeled fresh ginger

2
teaspoons
sweet or hot paprika

1
teaspoon
salt

1
teaspoon
ground coriander

1/2
teaspoon
ground cumin

1/2
cup
plain Greek-style yogurt

4
teaspoons
vegetable oil

2
teaspoons
fresh lemon juice

1/2
cup
sesame seeds

Directions
Preheat oven to 400 degrees. Pierce potatoes with a fork and cook in oven for 1 hour and 15 minutes. Let cool to room temperature and slice in half.
Using a spoon, scoop out the insides of the potatoes into a bowl leaving just the shell. Mash and mix in cheese, melted butter, cilantro, green onion, chile, and sesame seeds. Season potato mixture generously with salt and pepper; divide among potato shells.
For the yogurt spice paste, combine first 6 ingredients in a food processor or blender. Using on/off turns, blend until mixture is finely chopped. Add yogurt, oil, and lemon juice and process until smooth puree forms. Transfer to small bowl. Season to taste with salt and pepper.
To flavor the potato skin, dip the bottoms of the potatoes in the yogurt paste and dredge in sesame seeds. Transfer the potatoes to a baking sheet and pour equal portions of the remaining yogurt sauce on top of each potato. Sprinkle with remaining sesame seeds. Bake the potatoes at 350 degrees for 35 minutes, or until golden and bubbly. Serve warm. These make great leftovers if you can't finish them all.
* If you have leftover yogurt sauce, it makes a wonderful lowfat dip for fresh veggies!