I got this recipe from my mom (Kristie!) and then added a little bit of extra goodies to it. She's been making it on hot Sacramento summer nights to pair with a crisp glass of white wine and grilled salmon. It can be made to be an entree or side salad depending on serving size. Not only is it vegan, but it is really delicious and healthy! It's also not as spicy as spicy as the title may lead you to think- so if you want it really spicy, you might skimp on deseeding the serrano chiles.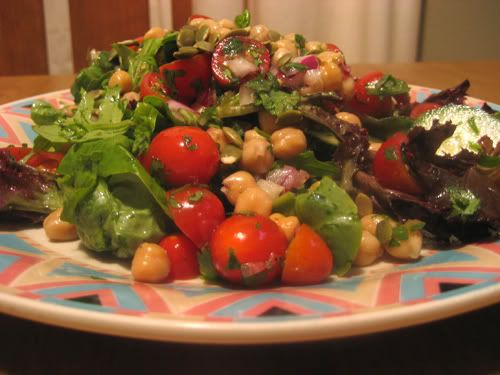 Ingredients
(serves 6 as a side salad)
adapted from Food Network's Guy Fieri's recipe
1 clove garlic, minced
1 serrano pepper, seeded, ribs removed and finely diced
1/2 small red onion, diced
1 lemon, juiced
3 tablespoons red wine vinegar
1/4 cup olive oil
Salt and freshly ground black pepper
1 (15.5-ounce) can chickpeas, drained and rinsed
1/2 pint cherry tomatoes, halved
1 English cucumber, sliced, skin on
1/2 bunch mint, leaves roughly chopped
1/2 bunch cilantro, leaves roughly chopped
1 head red leaf lettuce, shredded
1 cup arugula
1/4 cup pumpkin seeds
Directions
Combine the garlic, pepper, red onion, lemon juice, red wine vinegar, olive oil and salt and pepper, to taste, in a large bowl.
Add the chickpeas, cucumber, tomatoes, mint, and cilantro. Season with salt and pepper, to taste, and toss in the lettuce and arugula. Plate and sprinkle with pumpkin seeds.