I love juicy red tomatoes that just plain taste like summer. I picked up some fresh tomatoes and arugula from Farmer's Market and got to work on a new caprese dish. This makes for a nice light dinner on a hot day or could be made more miniature and served as appetizers.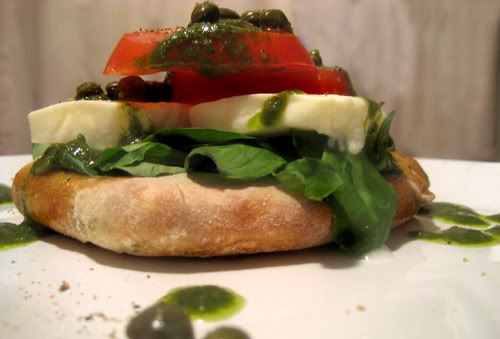 Ingredients
(serves 2 if made this way)
6 - 8 ounces fresh pizza dough
1 handful fresh basil leaves (or other similar greens)
1 T pine nuts or walnuts
1 T olive oil
1 T balsamic vinegar
1 T Parmesan or other hard cheese
1 large hot house or heirloom tomato, cut into thick slices
4 thick slices fresh mozzarella cheese (the kind that is packed in water)
1 cup fresh arugula or other similar greens
1 T capers
a drizzle of good quality olive oil
fresh cracked salt and pepper to taste
Directions
Roll out the pizza dough into thin 6" circles. Place on a baking sheet lined with parchment paper, prick the surface a few times with a fork and bake at 400 degrees for 10 minutes or until golden and slightly crispy.
In the meantime, make the pesto sauce by placing basil through Parmesan in a food processor or blender and blend until smooth and saucy. It should be a drizzling consistency, so you may need to add more liquid as necessary.
When flat breads are finished baking, top with arugula, cheese and tomato slices. Drizzle with pesto mixture and sprinkle with capers, salt and pepper.